Our School is expected to start in September 2020. We collect donations for our voluntary school foundation via the online platform betterplace.org. Here you can easily support us financially to advance large and small investments! Choose what you want to support and off you go!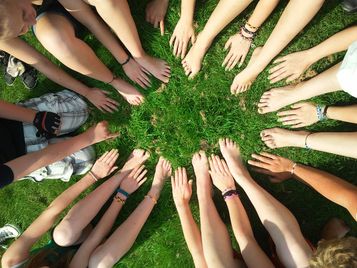 Are you a child, adolescent, parent, teacher, volunteer, trainee or just curious? Then see how school can be more than just a place to learn and test: Enter the (still imaginary) Democratic School Frankfurt and experience democracy, empathy, meeting at eye level, mutual respect, fun in life - and learning - all in one.
Pupils from 5 to 18 years will find a primary school with after-school care and a comprehensive school with all-day operation in one. This new school, located in Frankfurt, will be opened from Monday to Friday from approx. 8 a.m. to 5 p.m. (flextime) - freshly prepared, regional, possibly organic food as well as competent, empathetic support from a wide range of supervisors are part of our "school for everyone". The monthly tuition is socially scalable and worth every penny.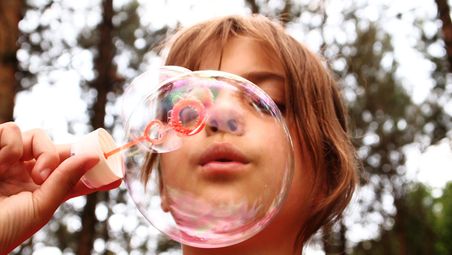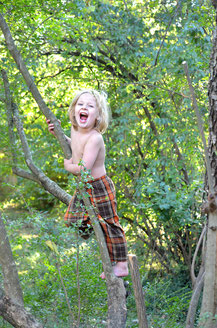 Philosophers, explorers, jokers, climbing artists, dreamers, visionaries, diplomats, craftsmen and sensitive people wanted! 
We accept schoolchildren of all ages and look forward to growth in our alternative school to be founded in Frankfurt am Main. Here you can come by on the info day with your child or you can register directly via e-mail!
Are you a teacher for primary school and / or secondary school and are you interested in a modern, humanistic and democratic school?
Then get to know us, contact us or write us an application directly according to your taste and discretion! Here we go!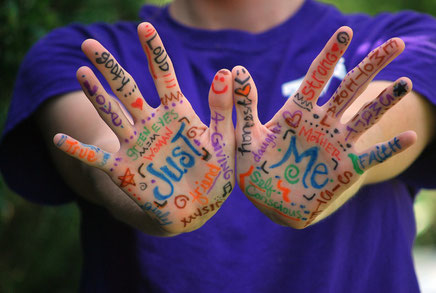 So that our school concept can become reality and there is finally a democratic, secondary school in Frankfurt, cohesion is the be-all and end-all. Therefore we are happy about every helping hand and every volunteer effort.
Whether as a new family or future employee, we need you now so that we can plan and implement. Helpers on information days or committee employees for special areas are also needed. Just write us and help building this democratic alternative school of it's first kind in Frankfurt.
What and how will the Frankfurt Democratic School be?
A brief summary of our school concept
The DEMOKRATISCHE SCHULE FRANKFURT will be a private, alternative, all-day school in 2020/21 and will acquire the status of "approved substitute school" three years later. It accepts children between the 1st and 7th grade and accompanies them up to the secondary school leaving certificate (10th grade). All children and young people of different ages can be admitted in August and February of each school year.
The school is run by the non-profit VEREIN FÜR DEMOKRATISCHES LEBEN UND LERNEN e.V.
Our school is being newly founded by experienced parents, social workers and teachers and will grow from 20 to 50 and up to 120 students over time.
This private school is reminiscent of schools such as the Free School Frankfurt, the Active School, Montessori or Waldorf School, Summerhill and Sudbury Valley Schools - but it has its very own free, social and socio / democratic school concept. Please read our FAQs.
Experiencing this concept at a private school is of course a "luxury or privilege" that is not available at regular schools. To be able to go to a "special" school should be affordable for everyone * woman * child! We are working towards the fact that the DEMOKRATISCHE SCHULE FRANKFURT needs between 150 and 350 euros per child per month for school fees (teacher support, rental costs, excursions, materials included) and around 60 euros for meals. In the first three years of foundation, the prices are in the higher range, because the school is financially supported by the state only after three years of existence. The prices of our private school can still be staggered socially so that every child has a chance of free education and free everyday life.
Donations for financial relief of this large project can be made here and on Betterplace.org.
Choosing such a school can have a long-term positive effect on the relaxed, self-confident development of the child and relieve families with regard to the care time and the usual evaluation pressure.
We don't have any ...
Classes
Age separations
Gender segregations
Class teachers, teachers dedicated to subjects
hierarchical headmaster
Tests, grades, reviews
Compartment separations
fixed breaks
Lessons canceled
Homework
If you want to shake your head and click away because you think "they're crazy, yes", then we can understand you, after all, from our own experience, one is usually not used to such a school and therefore may be skeptical. Nevertheless, stay curious a moment longer and take a look a little further down to see what we have to offer instead of the usual vocabulary associated with school:
We have...
Self-determination, self-responsibility
Flexitime and all-day care
grassroots / sociocratic decisions
informal, free and formal learning
interdisciplinary learning
Promotion of individuality
continuous caregivers
Room for intrinsic enthusiasm and commitment
Learning through attachment / relationship
Promotion of social skills
Spontaneity, flexibility in designing projects
Experts and learning guides
Moderators, mentors and mediators
Our life experience, our trust in the child and modern scientific knowledge show that life and learning belong together and that education works better through attachment or relationship than without it.
Experiencing more say, being able to achieve personal goals, large and small, at your own pace and experiencing real self-determination in everyday school life promotes learning, self-confidence, potential and social skills of the respective child in school - and in the long term in their life. Your own curiosity makes even complex areas of knowledge worth learning.
With us...
the children and young people can pursue their interests all day long.
the freedom of the one ends where that of the other is disturbed.
the students can see their mentors, learning guides and friends at any time.
work and study utensils are available throughout the day.
the students can decide for themselves what they learn how, where, for how long and with whom.
families can plan flextime and vacation time individually.
everyone can help shape the school.
everyone at the school has one vote.
all major resolutions, projects, regulations and parts of the budget are decided democratically by school assembly and then repealed.
Worldwide there are more and more free, alternative, democratic schools, such as the free schools in Germany, the Summerhill School in England or the Sudbury Valley Schools from the USA.
These schools form a living space and are more than just a place to study. Here the pupils can learn and live independently.
Participate as a student at our school. Here we want to design a place for fun learning, cross-level maturity, social skills, more innovation, creativity and fairness. A "school for everyone".
Since this school is not a state school, it is not completely funded by the state. That's why as a family you pay a monthly school fee that covers the costs for teachers, educators, materials, excursions, rent and food. Despite these monthly tuition fees, thanks to the social grading, our school is open to every interested student who wants to stand behind the concept.
We are looking for many new faces that will fill the learning rooms with life. Are you interested? Are you curious?
On our information days and workshops you can get to know us and the concept. You can also meet future classmates and maybe even make friends. Have a look and learn more about Frankfurt's first democratic school.
We are looking for pupils aged 6 to 14 years. In 2020 the school is expected to open as a primary school (Grundschule) and IGS (Integrierte Gesamtschule).
The school is expected to be approved by the state in 2023. The Association for Democratic Life and Learning will work to establish an upper or secondary level as well as a preschool or kindergarten.
Accordingly, this private school is a rather special school and an exciting large project in which children and young people can start school at any time. Once the school has been approved, the child does not have to be of school age, it does not have to be between primary school and secondary school - we are also welcome at the school between the grades in August and January every year.
So if you are looking for a suitable school for your child, we would be happy if you choose the DEMOCRATIC SCHOOL in Frankfurt. Send us an inquiry or registration, write us an email here:
Participate as an employee! These are our job offers - apply now!

We are looking for a teacher in elementary school and secondary school with a second state examination.

Our employees are more than "just teachers". They impart social skills, technical knowledge and can simply be a person, role model, helper and source of inspiration here at the school.
In the initial phase we have at least two permanent teachers, primary school and secondary level 1 with a second state examination and we also need a "lot" of volunteer helpers and supporters. Over time, the size of the children's group and our budget for the employees grow, so you can slowly but surely "familiarize yourself" with our school, as a freelancer, part-time employee or for temporary project work.
Whatever skills you have to offer, introduce them and us to us, contact us by e-mail at bewerbung@demokratische-schule-frankfurt.de or send us an application so that we can get to know you. Whether voluntary or paid, part-time, full-time or project work: we look forward to your contact!
Especially during the first three years we rely on volunteers to keep school fees affordable for all social classes. Just tell us how you can get involved with us, we are grateful for any help!
Do you enjoy working with children? Are self-determination, meeting at eye level, democratic decisions and commitment in an educational institution important to you? Are you curious and do you want to get involved? Then write us a message!
We are looking for a teacher (f / d / m) for elementary school and sec 1 with a second state examination
We are always looking for m / f / d:

Primary school teachers, Secondary school teachers, Specialist teachers (mathematics, German and many more)
Educators, Environmental educators, Social workers
Musicians, Dancers, Artisans, Artists
Native speakers (English, French and many more)
Cooks, Cleaners
Trainers, Coaches, Mediators
Participate in committee work! To build the Frankfurt Democratic School, we have named various bodies for the individual areas of responsibility. The members meet in their respective groups at irregular intervals in Frankfurt. For coffee and tea, planning, trading and chatting are also carried out via Skype / telephone / e-mail.

We look forward to new members and helpers, because the larger the bodies, the further we progress. Its a lot to do! Are you interested? Then write to us and be there! You could join:
- Family committee: 
Responsible for all new parents and students. It establishes the first closer contact, draws up the contracts, accompanies the admission process and also conducts workshops on this. 
- Building committee: Building tips wanted!
The building committee is looking for a building for our school! It deals with the legal requirements for school buildings, searches for buildings or construction areas and inspects them. The group is happy to receive information about empty buildings, properties that are for sale or for rent, former school buildings, etc.
- Staff committee: 
The staff committee is responsible for the future employees of our school. It draws up job advertisements and employment contracts, takes care of the application process and accompanies the employees as contact persons. 
- Donation committee:
For managing the finances we have a donation committee. Anyone who has contact to potential donors or knows how to collect money with campaign is welcome. 
- Public body
Helpers wanted!
The committee for public relations takes care of the external and internet presence, corporate design, texts, photos, videos etc. Additional members or helpers for large or small tasks, e.g. distribute to the flyers, are welcome at any time!
- IT and administrative body:
More helpers wanted! Manage and make contact data accessible, check server settings, send passwords, create e-mail distribution lists and and and ... you can do that in the (IT) management committee. 

Join now!
The sponsor of the DEMOCRATIC SCHOOL FRANKFURT is the nonprofit association for DEMOCRATIC LIFE AND LEARNING in Frankfurt am Main, founded on August 20, 2017.
We now have around 100 large and small members, meet several times a year and determine everything together in a grass-roots democratic manner. We are friends, acquaintances, like-minded people, specialists and optimists and "we make the world how we like it" - because we know: "If you want a change in the world, be it yourself".
We are really happy about new interested parties, members, sponsors and donations in kind or money. We can put more strength, investment and know-how into the spreading of democratic learning systems, the more people pull with us. Our pilot project, the DEMOCRATIC SCHOOL FRANKFURT, which is expected to open in 2020, still needs some donations and, of course, more awareness and support of various kinds.


- Clicking help: You can easily spread our website, like us on Facebook and rate us there or on Google. Thanks for that!
- Financial help: Donations can simply be made to our account or via our soon-to-be crowdfunding campaign.
You can donate regularly now as a new club member!
- Material help: Do you have furniture and books, children's toys and office supplies that you no longer need? We can now accept various material donations for the school facility.
- Voluntary help: Do you have know-how or important contacts, do you have experience in your area, would you like to get involved in our working groups or do you want to help? You're welcome!
- Moral help: Register as a member of our association and you will kill "three birds with one stone"! You help us financially, let our association grow and you can contribute to crucial questions! It's best to come to the info day!
-Family help: Are you a parent and want to send your child to our school sooner or later? The more parents who start school, the easier it gets and if your children or grandchildren are still young, you can help establish the school already right now. Apply to us as a family!
- Social help: Would you like to sponsor one or more (financially disadvantaged) children at our school and thus enable them to go to school? We can use sponsorships so that the monthly school fees for some families can be greatly reduced! Just talk to us about it!


We say for any support THANK YOU very much! :-)
membership
become a new member and support a democratic school system
Our non-profit association for democratic life and learning currently consists of around 100 members. We would be very happy to welcome further supporters in our circle.
Participation is not compulsory, it is desirable, but everyone can do whatever it is possible or "only" support financially.
The important thing about the membership of the association is, of course, among other things, the regular contribution that supports our project financially. The membership fee is currently 5 euros per month, which is 60 euros once a year. You can register as a single person (60 euros per person per year) or as a family member (60 euros per entire family per year).
The members meet (optionally) twice a year to decide democratically / sociocratically on the next steps, in addition there are workshops where you can learn something new and discover nice contacts!
On this page you can easily use our form to register as a new member and you can read our association's statutes online.
Become a new member
and thereby help our project to be realized!
It is extremely important for the school authorities to see how big the need in our city is to have another private school. The more people behind our project, the sooner our type of school can be approved. And the GLS Bank, with which we cooperate for the loan, also pays attention to the number of members of our sponsoring association.
So becoming a new club member actually helps us in many ways! We would be very happy to welcome you to our group soon.
Membership application form
you can get the application form here
Membership application form
The form to become a new member of the Association for Democratic Life and Learning e.V. and to support the foundation of the new school.
200229_DSF_Mitgliedsantrag_SEPA.pdf
Adobe Acrobat document 82.5 KB
Download
How does it work?
1. Simply click on the download button, the file will be downloaded automatically.
2. Open the new file (mostly found in the download folder) and print it out.
3. Complete and sign everything in writing.
4. Send the document as a letter to 'Association for Democratic Life and Learning e.V. Bastian Fincke Gonzenheimer Str. 31 60437 Frankfurt' or
5. Scan the document and send it as a PDF to the e-mail address: info@demokratische-schule-frankfurt.d.
We will confirm your registration within a few days, send you the statutes and rules of procedure etc. and invite you to the next general meeting. Please transfer the membership fee of 60 euros to us as soon as possible or fill out our direct debit mandate.
Thank you for your support and welcome to our club!
Do you have any questions?
Just write an e-mail to our association:
What are democratic schools?
What will our democratic school in Frankfurt look like?
An alternative approach to learning naturally raises some questions, since most of us cannot speak from personal experience in this area. The decision for a democratic school must be carefully considered, because it requires a high degree of trust in the school concept from parents and pupils.
We ** have collected the most common questions for you and explained them from our point of view in order to clear some uncertainties in advance.
** The FAQs come from the Ingolstadt Democratic School - thank you for the permission to reuse your great text - we have slightly adapted it to our Frankfurt school concept.
1. What is a democratic school?
Democratic schools belong to the group of alternative school types. The concept of democratic schools focuses on the individuality of every child in everyday school life. Democratic schools are widespread worldwide and have also existed in Germany for over 20 years. Conceptual core elements are:
SELF-DETERMINED LEARNING (the timing, the use of space and materials as well as the learning content and learning partners can be freely selected and designed)
FREEDOM OF EVALUATION (no (unwanted) performance recording and grading)
PARTICIPATION (important decisions are decided together in the school assembly)
AGE MIX (cross-age cooperation)


2. Is a democratic school suitable for all children?
This is where opinions split. In a democratic school, children have a high degree of personal responsibility. There are certainly children who are overwhelmed at the beginning. Children who come from a regular school in particular may have difficulties at a democratic school at the beginning and need time to cope with the freedom that is suddenly granted to them. You have to give them this time.
The parental home plays a very large role in answering this question. If the child is not trusted enough, or if the parents build up pressure for fear that the child could not learn enough, it can happen that the child no longer feels comfortable and an inner conflict arises. Democratic schools can also work the other way round and direct the view from the usual learning pressure or competitive thinking to more freedom and joie de vivre and thus also have a positive influence on attitudes towards learning at home.


3. What about children with disabilities?
Behaviorally original children should also be part of our community. It is important for us that everyone at our school can and should be as long as he respects the limits of others. In our school community, everyone is of equal value. If a separate support is necessary due to difficult original behavior, we will find a solution here too. It is important to contact us early, about a year in advance, so that we can clarify the need for inclusion specialists etc.


4. What does the school cost?
Since our school will not be recognized by the state but will only be approved, we have to charge school fees to cover the costs. The amount of the school fees is measured according to a solidarity-compensatory system. That means each family pays an amount that is within the realms of possibility. If the amount is insufficient to meet the school's financial needs, a solution will be found collectively. The school fees will initially range between € 200 and € 350 per month. However, our current calculation has so far an estimate of the costs, so the amount can vary.


5. What are the opening times / childcare times?
There will be a core time of 4 to 5 hours at our school. This is expected to be from 9 a.m. to 1 p.m. and can be determined by the school assembly. The school is expected to be open from 8 a.m. to around 5 p.m. Different caregivers are present during this time.


6. Can children handle the freedom they have in a democratic school or do they feel overwhelmed?
Children and adolescents are not completely left to their own devices, but can orientate themselves to the other pupils and adults and take part in existing courses and games in everyday life. In addition, the students also have self-selected mentors who support their learning processes in the short term and the entire learning path in the long term individually.
The basis for learning processes is the natural ability, inherent in people, to accept suggestions themselves, to modify them or to reject them. When it comes to self-determination of learning content, there can be no question of being overwhelmed, but rather of a natural requirement for
The basis for learning processes is the natural ability, inherent in people, to accept suggestions themselves, to modify them or to reject them. When it comes to self-determination of learning content, there can be no question of being overwhelmed, but rather of a natural requirement for learning.


7. What school degrees are possible in a democratic school?
At the democratic school itself, no school leaving certificate can be taken. However, each degree can be taken externally and this is also the rule. The children or adolescents choose their own motivation for a certain final exam (middle school, Abitur). Together with other classmates and the learning guides, you prepare for the exam. When preparing for the exam, for example, frontal lessons can also be held. As a rule, pupils from democratic schools graduate above average and are characterized by a high level of comprehension and motivation to learn during the exam preparation. There are hardly any students who leave a democratic school without a school leaving certificate - at least there are no more than at a regular school.


8. Do students of a democratic school find their way later in society?
Yes! Probably even better than some others. Students in a democratic school are mostly self-confident, responsible and self-reliant people. The school assembly gives the children and young people a real feeling and understanding of democracy and tolerance and what it means to have a say early on. The everyday life of these students is interspersed with constant communication, argumentation and discussion. They are in constant communication with their fellow human beings. Graduates from democratic schools often have a clear path in mind, because they have the full school time through the opportunity to get to know themselves and what is in them.


9. How do the children learn to read, calculate and write?
By simply learning it on their own. Every child comes to the point at which they want to learn the cultural techniques. We are surrounded by numbers and letters in our world, so it does not fail to deal with it. Just everybody at their own time. How children learn cultural techniques differs from child to child. Some open up to themselves, others learn from older classmates, others want to be taught specifically. There is no secret recipe for this - everyone learns in an individual way.


10. Are there fixed learning times for the children?
No, basically not. However, courses in the desired areas are offered on request. Then there are fixed times when these courses take place. The children can decide, for example, that there should be a fixed learning period for one year for a specific topic or subject. The students can, of course, make out individual learning times with learning guides at any time. (see also No. 13)


11. Do children learn enough at a democratic school?
They learn what they want to learn and what is important for their individual life. To prepare for an external exam, of course, they learn exactly what is necessary to pass the exam, when they are ready, interested and best receptive to it.


12. Is there homework?
No. This also means that you don't have to carry a heavy satchel every day. Every student is free to stay longer in school to finish a project on site or to prepare or complete something at home.


13. Are there teaching courses?
If the children want it, courses are offered. Every child and every employee has the opportunity, depending on preferences, interests and skills, to suggest courses and projects in the school assembly. There it is then decided according to sociocratic principles whether or who and when and for how long what is offered.
Our school will also be in constant communication with extracurricular institutions. If a student is interested in a particular craft, for example, we will try to contact a company. In this case, school time can also be spent outside the school building.


14. Are there rules in a democratic school?
Yes. And quite a few of them. It is a misconception that there are no rules in democratic schools, because the opposite is usually the case: a community cannot function without rules. What is special about it, however, is that the students set up the rules themselves. This happens in the school assembly. For example, a student will present a new rule and it will be voted on according to socio-democratic principles. If there is no longer a serious objection, the rule comes into force and everyone is obliged to comply. If the rule is broken, there are consequences. What this consequence then looks like will be communicated, discussed and coordinated in a round (the fair trade) with all those involved. It is noteworthy that rules in democratic schools usually have more value for the pupils because they were not imposed on them, but rather they were themselves involved in drawing up or abolishing them.


15. What if a student doesn't want to learn?
Every student wants to learn. However, it is usually the case that children who come from a regular school often need a certain amount of time and "do nothing" for a long time. The children often need to relax from the stress or pressure - and this time is also given to them here. Experience to date in other schools has shown that no child naturally refuses to go to school. The unaffected, individual perception of each child also provides empathetic support if the child should not feel comfortable for various (extra-curricular) reasons in order to find a place of trust, relaxation and learning in the DSF.
To answer such a question exactly, two terms have to be clarified.
First the concept of "learning" has to be defined. At our school, "formal learning" is not the main focus. "Informal learning" mainly takes place in democratic schools - learning in context of life, spontaneously and without specification. It is often not clear to outsiders which learning processes are taking place, for example at an interpersonal level. These non-obvious learning processes are sufficient and are an important cornerstone for general knowledge, empathy, body awareness and arousing new interests.
Secondly, the concept of "doing nothing": We consider "doing nothing" as a necessity in order to pause and get back into action. "Doing nothing" often harbors processes that are not visible to the eye, but are important for the individual.


16. What is the typical daily routine of a democratic school?
This question is difficult to answer because each child can pursue their own interests at their own pace. The (daily) school assembly and lunch together are definitely an integral part.


17. How do you know this really works?
Sudbury Valley Schools graduates have demonstrated that this model works for over 30 years. Pupils who have no grades, no rank within the class and sometimes no formal instruction at all are still admitted to good colleges (based on their written and personal presentation and, where necessary, based on their test results). They are successful in their course work (often they have to "catch up" on certain material, but they have the strength and confidence to do it easily) and pursue various interesting careers. Those who have decided not to go to college (around 20%) have become successful artists, craftsmen, traders, musicians and business people.
Furthermore, Sudbury School graduates are clearly expressing, responsible, unbiased adults who - since they never saw their education as someone else's responsibility but as their own - are still involved in life and new things for the rest of their lives learn. There are also enough reports from German democratic schools to confirm this.
Every happy student is worth starting this school :-) Take part!